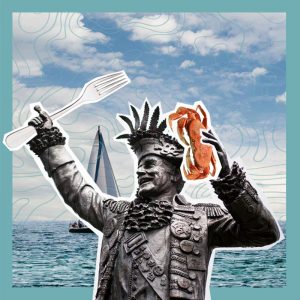 Using the Lure of Contesting and the Technology of Automated Marketing to Develop a Segmented Database
Nanaimo, located on beautiful Vancouver Island in British Columbia, Canada provides visitor information year-round to residents of short-haul markets (British Columbia, Alberta, Washington State). Their marketing team aspires to tell the story of this urban and outdoor oasis, located on the shores of the Salish Sea, and invite visitors to come visit our rainforest, ocean-side paradise for rest, relaxation, urban and wild experiences.
Eclipse360, a full-service agency located in downtown Victoria, has been working with Tourism Nanaimo over the last year on their digital marketing efforts. For their fall campaign, Tourism Nanaimo presented Eclipse360 with a challenge – to grow and better segment their database through their fall campaign while leveraging existing automated marketing software.
Eclipse360 developed a paid social media campaign and landing page with an unexpected and disruptive creative concept. The ad creative drove traffic to the landing page, encouraging site visitors to take a 'this or that' poll, ultimately designing their perfect getaway to Nanaimo.
Observe military memorabilia devouring seafood
Okay, maybe not, but would you rather tour museums or enjoy local seafood? Vote for a chance to win.
Watch whales go ziplining
Perhaps that defies physics! But, would you rather go whale watching or zip lining through the forest? Vote for a chance to win.
By submitting their email, website visitors were entered in a draw where one lucky contestant was rewarded with the perfect Nanaimo getaway.
The campaign launched on October 22 and by November 14, Tourism Nanaimo had almost doubled their database.
As something extra just for signing up, contest entrants were also sent an email, immediately following sign-up, of four other activities they could do in Nanaimo (each of these activities corresponding to their choices in the 'this or that' poll. For example, if someone had voted for:
Go Ocean Kayaking
Swim Through Shipwrecks
Devour Seafood
Go, Island Hopping,
They received an email including more information about when, where and how those four activities could be completed in Nanaimo.
One week after signing up, the contest entrants were sent another email, again with content that corresponded to their poll responses. In the case above, the individual was sent content related to:
Whale Watching
Snorkelling
Eating Nanaimo Bars
Experiencing Fine Art
The first email saw an open rate of 46.06%, with the second emails open rate being 37.84%, both significantly higher than the average for travel of 24.96%.
The targeted contest ran across Alberta and British Columbia from October 22 to November 30, generating 4,135,489 impressions with an average click-through rate of 4.75% and conversion rate (conversion defined as email sign-up) of 43.05%.
As the contest came to close, the winner was announced and contest entrants were sent one final email – again filled with custom content based on their responses to the quiz. Each contestant was sent a personalized itinerary, detailing their perfect trip to Nanaimo. Open rates were again well above industry standard at 47.81%.
---
[i] https://www.smartinsights.com/email-marketing/email-communications-strategy/statistics-sources-for-email-marketing/