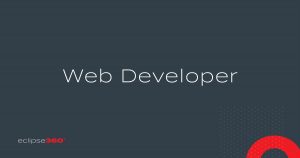 The Eclipse Team is growing again! (and we don't mean from all the Tim Bits). Come join our awesome and creative team! We're looking for an enthusiastic front-end developer with real-world experience building amazing, functional, and pixel-perfect websites. WordPress/PHP, JavaScript/jQuery, CSS3/SCSS, and HTML5 knowledge is a must.
Full-time preferred.
Remote work offered, must be able to work 8:30am – 4:30pm PST.
Interview process includes a comprehensive technical test assessment by the candidate.
Required Skills & Experience: 
3-5 years of experience developing sites with WordPress, with a demonstrated skill and passion to create real-world, commercially viable web solutions with a portfolio that backs up your experience.

3-5 years knowledge of the following technologies/stacks: HTML5, CSS3, JavaScript/jQuery, LAMP in a remote and local environment, WordPress.

Expertise in coding themes from scratch & implementing custom PSD/XD designs. You can take an XD file and build an entire site from it.

Able to work in a Development environment, spin up a new instance of WordPress, install and configure it (troubleshooting issues if necessary) through cPanel.

Confidence in taking part in the planning and design process to collaborate on improvements and possible innovations to a number of projects at once.

Can take a website project from concept to launch without assistance if needed.

Able to install and configure email accounts and redirects as necessary.

Likes to laugh, share and be social

Understanding of UI/UX concepts

High attention to detail

Great collaboration skills whether it's with the creative team or account service

Intermediate to advanced understanding of PHP

Demonstrated commitment to best practices and ongoing education

Excellent analytical and problem-solving skills

Strong leadership and ability to communicate with both technical and non-technical audiences.

Able to work independently and keep project timelines on track with little to no supervision.

Proven flair for designing and implementing functional & efficient user experiences.
Nice-to-Have Skills & Experience:
General understanding of SEO and how it relates to markup and current coding best practices.

Familiar with Adobe Illustrator and InDesign

Basic Security Knowledge and understanding

Experience with various API integrations

Bachelor's Degree in Computer Science or demonstrated ability
Tell us why you are excited to work at Eclipse360. We read Cover Letters! To apply, forward your Cover Letter and Resume to jason@eclipse3sixty.com
We appreciate all interest but cannot respond to all applicants. Only qualified candidates will be contacted. No phone calls or recruiters. 
Benefits:
Extended Health Care & Dental

$500/year Healthy Living Account (HLA) (for use on gym memberships, equipment)

Flex time for various needs (family, health, etc)

1 Week off over Xmas (paid)

Performance-Based Employee Recognition Program