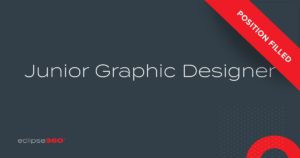 We are a Victoria-based advertising agency and idea incubator. We are passionate about building brands and delivering results. We've got a fantastic, dedicated and award-winning team who are driven to succeed and have fun getting there.
---
The Junior Designer at Eclipse360 is an entry-level position that works as an integral part of the creative team and looking to learn and grow in a fast-paced agency environment. Working on a diverse group of clients from destination marketing to finance and tech, they are always ready to jump in and get their feet wet whether its print, web or digital. Motivation, passion and raw talent are the key ingredients here. You are comfortable working collaboratively with other creative team members or members of the account service team as well as not being shy to ask questions and take direction.
You are looking to join a dynamic and passionate team that is dedicated to solving business problems and building brands in different and innovative ways. You are fun-loving and have an easy-going temperament — No egos, please.

The role and general responsibilities include:
Work as part of the creative team in the development of print and digital ads, corporate communications and web design.

Is comfortable with multi-page layouts and the flowing of long documents and production.

Work with the client services team to produce communications and corporate documents that meet the objectives of the client.

Where necessary, work with the client services team in responses to Request for Proposal as well as advertising and communications plans.

Be open and willing to play foosball, tell jokes and generally have a good time.

Multi-task, prioritize and work to deadlines within designated budgets.

Make data-informed campaign recommendations

Stay on top of Design Best Practices and research technologies/programs to help achieve targets and share with the Creative team.
Essential Skills for this position:
Diploma or degree in graphic design would be an asset

Proficient in Adobe Creative Suite (Indesign, Illustrator, Photoshop, Acrobat Pro)

Comfortable with basic CSS and basic HTML

Familiar with Premier and After Effect but not a necessity

Comfortable working in both Google Docs and Microsoft Office Suite

An understanding and appreciation for agency culture and the fast-paced nature of the work we do

Organized with the ability to work well under pressure and within tight deadlines and budgets

Good written, presentation, verbal communication and organizational skills

Tell us why you are excited to work at Eclipse360. We read Cover Letters! To apply, forward your cover letter (addressed to Charlie Marshall, Floor Manager)