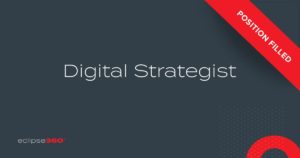 We are a Victoria-based advertising agency and idea incubator. We are passionate about building brands and delivering results. We've got a fantastic, dedicated and award-winning team who are driven to succeed and have fun getting there.
---
The Digital Strategist at Eclipse360 is a digital mastermind, creative problem solver, and analytical guru. You possess a deep understanding of digital marketing best practices, as well as an intuitive understanding of the best way to sell different products and services to different target audiences. You feel comfortable working as part of a team to craft a compelling brand and sales narrative. As an experienced digital marketer you are comfortable in driving business in online environments and creating measurable results across multiple platforms and networks.
You are looking to join a dynamic and passionate team that is dedicated to solving business problems and building brands in different and innovative ways. You are fun-loving and have an easy-going temperament — No egos, please.
The role and general responsibilities include:
Contribute to and implement overall Marketing Strategies in conjunction with our account service team

Develop email and lead generation strategies and see them through to implementation

Drive incremental digital acquisition growth and manage paid media channels across many clients (SEM, Display, Retargeting, In-app, Paid Social). This will include A/B and multivariate testing of ads as well as updating and managing changes as required

Contribute to SEO activities to increase rankings and support client goals

Track and monitor campaigns. You will be required to work with internal teams to measure, analyze, and optimize the performance of the entire conversion funnel; Including marketing campaigns, website interaction and social engagement, as well as any potential performance bottlenecks

Make data-informed campaign recommendations

Liaise with marketing team members and other departments to ensure campaign requirements are understood and met, and that communication flows through the organization.

Stay abreast of Marketing Best Practices and research technologies/programs to help achieve targets and share with the Marketing team.
Essential Skills for this position:
Bachelor degree in marketing, communications or related field with 5+ years of proven experience as a Digital Strategist

Experience leading and connecting multi-disciplinary teams to deliver digital solutions that meet (and exceed) client expectations and user needs

Thorough knowledge of online marketing and website best practices (A/B testing, user funnel reporting, optimization, automation, segmentation, deliverability). You will need a deep understanding of how digital products and services are built and delivered

Experience with Social media ads, Google ads and Google Analytics is mandatory

Experience defining website requirements and user journeys, presented as user stories

An understanding and appreciation for agency culture and the fast-paced nature of the work we do

Experience with lead generation and automated marketing tools (i.e. Active Campaign & HubSpot)

Experience in brand management

Organized with ability to work well under pressure and within tight deadlines and budgets

Exceptional written, presentation, verbal communication and organizational skills

Entrepreneurial spirit and proven track record for building business
Tell us why you are excited to work at Eclipse360. We read Cover Letters! To apply, forward your cover letter (addressed to Charlie Marshall, Floor Manager)