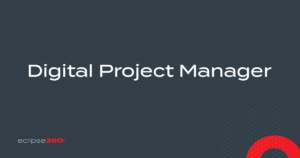 We are a Victoria-based advertising agency and idea incubator. We are passionate about building brands and delivering results. We've got a fantastic, dedicated and award-winning team who are driven to succeed and have fun getting there. We don't have the typical 'layers' found at most agencies and expect all of our team members to enjoy being part of the creative process. Teamwork is an essential part of our company dynamics and a professional work ethic with great enthusiasm for the job are the hallmarks of a successful employee.
---
We are looking for a Digital Project Manager to manage and traffic our Digital project workload. The successful candidate will be an integral member of the Marketing Team working directly with the Design, Development and Account Service Teams. You will report directly to our Digital Strategist.
You thrive working in a fast-paced environment and love building client relationships. You are comfortable managing tight deadlines, budgets and staff resourcing and you're open to team collaboration and rolling up your sleeves to ensure projects are met efficiently, effectively, on-time and on-budget.
You've planned, launched and managed large-scale corporate websites and you understand how to communicate with both clients and your internal team to successfully meet client expectations, deadlines and budget allocations. You're also an "all things digital guru". Once a digital campaign is activated, you can't wait to start analyzing and optimizing the campaign for improved results. Most importantly, YOU have a great attitude — you're fun-loving, easy going, with the ability to learn and continually push yourself. A positive attitude is key! No egos please!
Please ONLY apply if you have had direct ADVERTISING OR MARKETING agency experience.
Responsibilities:
Manage client communications, project schedules and budgets

Collaborate with internal teams to design, develop and implement digital projects

Project planning and resource scheduling

Understand and document project requirements

Manage project change requests and impact on schedules and budget

Manage and control Workback Schedules

Create Functionality Documents for Development Team

Traffic digital project workload

Manage QA and testing processes

Internal and external project reporting

Consult with clients on future project ideas

Project/task scoping and cost estimates

Collaborate with the front-end team and other technical people to integrate back end and front end solutions

Comfortable with Video Production

Email Marketing – Design and Send Email campaigns (comfortable using Active Campaign)

Web Development – Project Manage our Websites and Create Landing Pages

Social Media – Manage social media profiles and provide recommendations

Analytics Reporting – Execute Mid & Post-Campaign Reporting and recommend solutions throughout the duration of a campaign
Qualifications:
5+ years of experience in an Advertising Agency with a strong focus on Digital Marketing

Google Analytics and Google Adwords certifications (or equivalent experience)

Proven experience creating, updating and managing Websites and Email Campaigns (comfortable using WordPress and Active Campaign)

Proven experience managing paid media budgets and channels (SEM, PPC, display, remarketing, paid social, native advertising)

Proven experience optimizing SEO and other unpaid digital channels, you know what works and how to turn site visitors into leads and how to improve the overall customer journey

Experience with optimization and A/B testing

Strong communication, collaboration and project management skills – Ability to handle multiple projects and tasks

Advanced skills in Excel, Word and Powerpoint

Familiar with Video Editing

Social Media Experience – Natural ability to use Social Media as a Marketing Tool

Strong Analytics Reporting of Websites and Campaigns

Must have strong verbal, writing, presentation, and analytical skills with attention to detail

Have experience in the use of modern project management tools

Love managing client budgets, creating proposals and managing client expectations

Have the ability to work with our design, architecture, and development teams to ensure they are operating efficiently

Exhibit critical thinking, creative problem solving, and willingness to learn new tools for effective client communication

Provide clear communication with clients; interpretation and understanding their needs while explaining technical information in business terms

Are committed to continuous learning
Tell us why you are excited to work at Eclipse360. We read Cover Letters! To apply, forward your cover letter (addressed to Charlie Marshall, Floor Manager)